Cocktail Watches
How wristwatches became pieces of jewellery in their own right
In a time when iPhones are ubiquitous and toddlers are glued to their smash-resistant screens, it's somewhat hard to comprehend that, once, it was uncouth for a lady to be distracted from a conversation even momentarily. A quick glance at a wristwatch was the ultimate faux pas, signalling boredom and a lingering dissatisfaction with a companion. As it is rather handy to be aware of the time, watchmakers at the beginning of the twentieth century began to be creative with how it was displayed, concealing it in increasingly elaborate ways. A practical dial lay buried beneath layers of diamonds, or became so petite it was barely visible amongst the brilliant gems which encircled it; sometimes, a secret panel slid back in order to reveal that it was, indeed, time to escape to the next party. Soon, the bejewelled accessories became pieces of jewellery in their own right, and quickly became synonymous with the Jazz Age. As they became increasingly spectacular, their only purpose was to signify pure luxury, dripping in diamonds and decadence. And if it told the time too? It was a helpful bonus.
Backes & Strauss, a natural purveyor of exquisite cocktail watches
Step forward Backes & Strauss - led by Vartkess Knadjian, the Mayfair luxury brand and fine purveyor of extraordinary, unique jewellery watches and bespoke jewellery has a tantalising history. Their luxe diamond watches and authoritative diamond expertise make the British watch brand a natural purveyor of exquisite cocktail watches, whilst their diamond watches for men and women have become respectable UK investments that encapsulate luxury living for watch connoisseurs. Indeed, they have been inspired by their own extraordinary jewellery, dating from the nineteenth century, for some of the feminine designs, including the delicate interlocking heart motif on the Lady Victoria and Countess Victoria timepieces. Blurring the lines between horology and jewellery, these chic pieces nod to the original principles of a cocktail watch, with discreet mother-of-pearl dials and awesome technology at their heart - the secret clasp of the Lady Victoria and the smooth curves of the Countess Victoria dial are innovations that are both ground-breaking and elegant.
A serious contender to other famed luxe diamond watches
Cocktail watches aren't just for the more mature ladies either: the stylish Miss Victoria, inspired by the bubbling fizz of youth, will grab the possibly shorter attention span of a younger audience. Combining classic, flawless diamonds, its clean design will work as well with a black dress as it will jeans and heels, making it a serious contender to other famed luxe diamond watches from Harry Winston, Chopard, Patek Philippe and Rolex.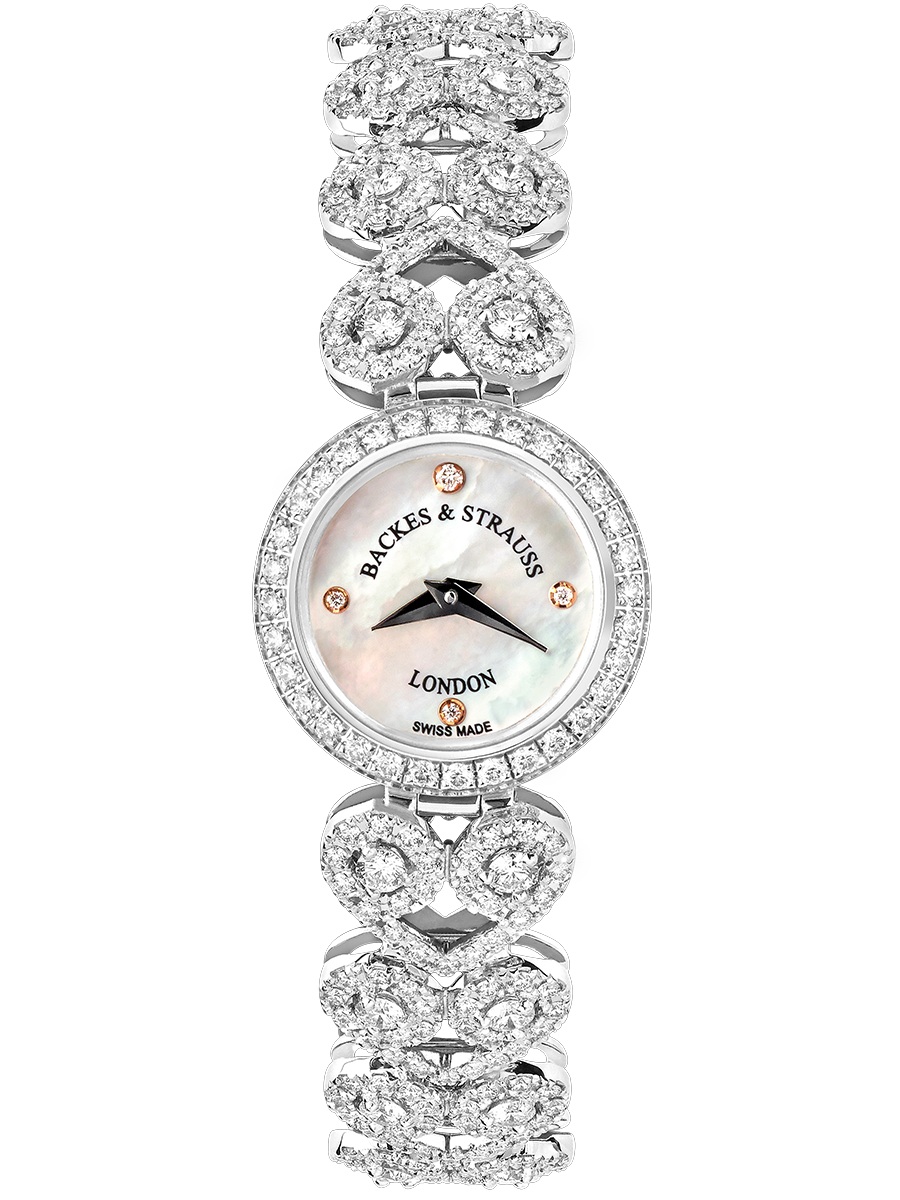 Dazzling; that's just how we like our diamonds
But who wants everything to be understated? Praise be for the glorious The Victoria; a stand-out piece from the Bond Street jeweller, it cuts an unashamedly bold silhouette of interlocking hearts, set with white and natural fancy diamonds. A jaw-dropping piece, it may not conform to the technical definition of a cocktail watch - discreet it is not - but as a talking point in itself, it dazzles. Which is handy, as that's just how we like our diamonds.